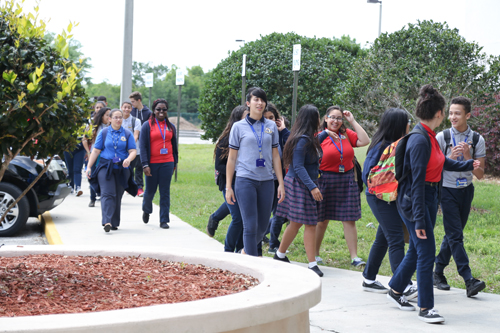 APPLICATION PROCESS
The Admission Committee, composed of faculty and administrators, evaluates each prospective student in the following areas: academic achievement; readiness and aptitude; social-emotional development; interests, talents, and extracurricular achievements and family's commitment to serving Christ and cooperating with the school to meet the student's needs and the ability of the school to meet the needs of the child.
1. Schedule a campus tour
We invite you to visit us for a tour of Central Pointe Christian Academy campus. Tours are given Monday – Thursday from 8:00am – 2:00pm and last approximately 15 minutes. To insure all parties are available, please schedule tour in advance. Please contact Ms. Alexandra Carrion at 407.433.2276 to schedule a tour.
2. Submit an application and pay the $75 reservation fee.
The $ 75 is to secure a spot for your child during the registration process.
3. Submit the required application documents to the school office
*The Teacher Recommendation Form should be given to your applicant's current teacher(s) to complete and return to Central Pointe Christian Academy.
4. Submit copies of report cards and standardized test scores
Copies of the applicant's past report cards and standardized test scores should be turned into the admissions office. These can be faxed, mailed or scanned and emailed. Email: cpcacademy@gmail.com Fax: 407-530-4741.
5. Schedule a family interview
Once you have submitted a complete application, paid the application fee and turned in all of the application documents including report cards and test scores, someone from admissions will contact you to schedule a family interview with the appropriate administrator.